Home

|

Properties for Sale
| Floor Plans and Prices
Floor Plans and Prices
All condos are two-bedroom, two-bathroom units..
Interior layouts highlight the spectacular ocean views overlooking both the front and rear of the units, with large bay windows, front / rear decks offering 360-degree views.
Click an image below to scroll through photo gallery, including floor plan, for last 3 condos currently available:
Building 2, Unit B, Lower Floor, North Side
2B Sea La Vie - $475,000
Limited Time Promotional Offer on 2B only
25% Down, 0% Initial Rate
$989 Monthly Payment
Guaranteed Minimum $30k
Rental Revenue

Last Unit Available At This Rate
Contact Us for Details
Building 2, Unit C, Top Floor, South Side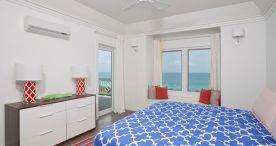 2C Cupid's Key - $595,000
Building 2, Unit D, Top Floor, North Side - SOLD
2D Entre-Deux-Mers - $595,000 (SOLD)
Only 1 Unit Remaining!
The Following Units Are all SOLD:
All condos in Building 1 are SOLD:
1A Sapodilly
1B Serenity
1C Kool Jumbey
1D Casa Dos Vistas
Two condos in Building 2 are SOLD:
2A Over the Rainbow
2D Entre-Deux-Mers

*Furnishings shown are available for purchase if desired.