Home
| Condominium Resort Rentals Overview
Eleuthera Bahamas
Condominium Resort
Private Beach, Heated Pool,
Ocean Views From Every Room
Two Oceans. Two Views. Imagine watching incredible sunsets from your sofa or private deck over the Caribbean directly below. In the morning, enjoy watching the sun rising out of the Atlantic through your kitchen window. Between the daily solar spectacles, relax in luxurious comfort.
New 2-Bed/2-Bath Vacation Rental Condos

Resort Quality, Professional Guest Services Team, PLUS All the Comforts of Home

Weekly rates from $1,950, Golf Cart Included. 3-day Minimum

Stay. (Even lower rates available in the fall off-season.)

Ideal Venue for Weddings, Family Reunions, or Other Large Group Rentals
We are located on the island of Eleuthera, Bahamas, just 60 miles east of Nassau. (Click here for Google Earth view.)
If you haven't discovered Eleuthera yet, one visit will redefine your entire concept of what a "paradise island" should be. For many people, the first thing that comes to mind if you mention the Bahamas is the TV ads they've seen for the big casino resorts in Nassau. Eleuthera is nothing like that. In fact, it's almost the opposite. It's untouched rather than over-developed. It's authentic rather than manufactured. It's "Old Bahamas" right here in the 21st Century: laid back, uncongested, charming, safe, friendly, and full of incredible empty beaches just waiting for you to discover and enjoy. Learn more about our version of genuine paradise below, and at our About Eleuthera page.
Contact our rentals team today!
They specialize in Eleuthera Vacations and can answer all your questions.
Call (866) 896-8439 or click here to submit your inquiry online.

The Condos
Spacious residences, two bedrooms, two baths
Professionally and Individually decorated
Fully equipped, modern kitchen, in-home washer/dryer
Two large decks with ocean views, Caribbean & Atlantic, from every condo
Satellite TV, free wifi
Professional and attentive Guest Services team on call
Optional services available on request: shopping, catering/cooking, massage, yoga, and more
The Property
Miles-long, secluded, pink sand beach, with private access on the property, with no roads to cross
Golf cart for use on property
Heated resort swimming pool
Kayaks, paddle board, beach towels / chairs / umbrellas
Palapas (Atlantic and Caribbean)
50 secluded acres, located near the center of the island; easy access to points north and south
Dining and shopping options as close as 1/2 mile
Only 3 miles from Governor's Harbour Airport (GHB)
The Island
Beach lover's paradise: 135 spectacular, world-class beaches, remote and awe-inspiring
Activities: fishing, diving, snorkeling, sailing, kayaking, surfing, cliff-jumping, caving, and more
Abundant dining and night life options
A step back in time, to when life was simpler: safe communities, uncongested living (zero traffic lights)
Warm and caring people, famed for their friendliness, welcome you warmly (and won't hustle you!)
Just the laid back vibe you need to strip away 21st Century stresses
Easy access, only 200 miles from Miami
Reviews from Our Guests
Visited in 2014 and had a fantastic stay at Buttonwood. So could it live up to our memories of that stay? I can honestly say this was better again.
---
Our first time here in Eleuthera, and we will definitely be coming back!!! Buttonwood Reserve was everything we hoped for and more! We felt right at home!
---
Buttonwood Reserve was the perfect place for our family of four to call home during our stay on Eleuthera. The bright, clean condo was well appointed with linens and towels and we had all the cooking utensils we needed when eating in. The view from the balcony was spectacular.
---
We were THRILLED to stay at this 5 star home for our first visit to Eleuthera. The home was exactly how pictured. Newly built to perfection, beautifully decorated, sparkling clean and supplied with everything you need. The absolute best were the two decks. One over looking the very close Caribbean Sea and the other with views of the Atlantic Ocean.
---
This rental property was immaculate, well-equipped, nicely furnished, roomy enough for our family of four. The pictures are accurate. There are extra touches, such as a great supply of huge beach towels. The property managers and on-site folks were very helpful and did everything to make our stay a pleasure.
---
First time in Eleuthera and we think we have found paradise at Buttonwood Reserve. Beautiful, modern condos and two oceans to choose from - one walking distance and the other 5 minutes away in a complimentary golf buggy. We spent two weeks there (2 adults and 2 kids age 19, 14) and visited most of the beaches in the area. It is true what they say about Eleuthera as we were almost always the only ones on the beach.
---
While the property is brand new, it nonetheless has the feel of a seasoned resort. The residences are spacious and beautifully decorated. Modern appliances, remote control A/C units and quality finishes make for a pleasant and comfortable stay.
---
Click for Details and Photos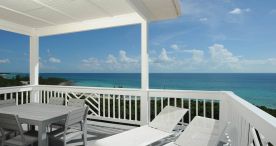 Two Oceans, Two Views
Our residences overlook the Caribbean from atop a 45-foot ridge, high enough to assureg two breathtaking ocean views from each condo. Watch the sun rise over the Atlantic and set over Caribbean. You can enjoy the view through the 8-foot sliding glass doors and large bay windows, or from the 400 square foot deck, furnished for lounging or dining while watching the sunset over the Caribbean. The deck extends around the corner of the building for views in every direction.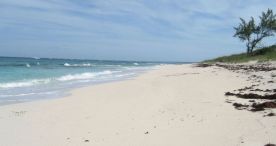 Miles of Secluded Beach
The resort area is connected by a private golf-carts-only drive to a miles-long section of secluded pink sand Atlantic beach. With no rivers or streams on Eleuthera, the seas that lap its 100+ beaches are free of sediment and are among the clearest in the world. You can go exploring many of those beaches up and down the island, or opt to stay right on the property.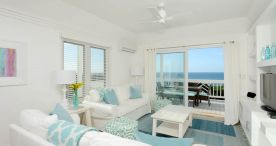 Image




Spacious, Gracious Living Accommodations
Each luxury condominium is professionally decorated, and no two units are alike. They all feature a great room and a dining room with seating for six. The east end of the great room features a modern, open-plan, luxurious kitchen finished in stainless steel and black granite. The kitchen has beautiful ocean views in every direction, with palm trees out your window and water sparkling as far as the eye can see. Each is fully air conditioned, with "mini-splits" for each room, and also offers fee wifi, satellite TV with DVD, a fully equipped kitchen (stainless steel refrigerator and dishwasher; microwave; coffee maker), and a washer/dryer. Tour all eight Condos here for photos and availability calendars.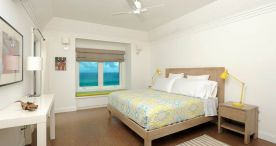 Comfortable Sleeping for 4 or 6
Master bedrooms are furnished with a king bed, and guest rooms with twin beds convertible to a king upon request. Each bedrooms offers a full ensuite bath.
Bedrooms also feature a large bay window with an upholstered window seat to enjoy the panoramic Caribbean or Atlantic views. Bedrooms have direct access to the deck. Most units also offer a fold-out sofa to comfortably sleep up to 6 people.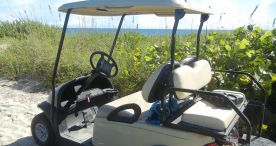 Amenities for Beach-Goers ...
Electric golf carts and bicycles are provided for quick and easy access to the Atlantic side beach. Palapas offer additional shade and comfort on both the Atlantic and Caribbean beaches, along with portable beach chairs/umbrellas, beach toys, and coolers. Kayaks are also available, as well as a paddle board.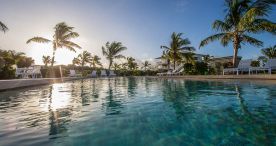 ... And For Non-Beach-Goers
If you're not in the mood for a swim in the ocean, slip into our new resort-style pool, just steps away. This beautiful landscaped pool is heated to 84F (29C) in the winter time and assures comfortable swimming year-round, with plenty of lounge chairs available to just relax and keep an eye on the kids.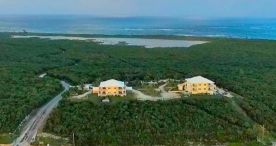 Centrally Located Seclusion
The 50 secluded acres of Buttonwood Reserve provide a quiet atmosphere to detox from the hubbub of civilization, but its central location affords convenient access throughout the island, to the north and to the south. Dining and shopping options begin less than one mile away, and Governor's Harbour Airport (GHB) is only 3 miles to the south.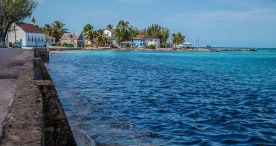 Activities and Attractions
Right in the middle of Eleuthera, Buttonwood Reserve offers convenient access to Governor's Harbour, as well as the southern and northern tips of the island. You are within easy drive to all of the best restaurants and outdoor activities up and down the length of the island. Learn more at our "Where to Go / Things to Do" page.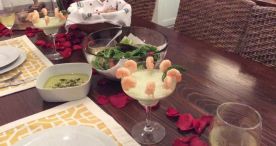 Extra Services Available
For additional convenience and relaxation, guests can arrange for such optional services as pre-arrival shopping, catering, yoga, massage, arranging excursions and activities, extra housekeeping, and more. Our team will take care of whatever you need, or happily make arrangements with, or refer you to, one or more local providers who offer the specific services you're looking for.